Managing numerous smart devices has never been so easy. Smart home technology is getting more popular these days. According to the statistics, the number of smart homes in the market is expected to reach 478,2 million in 2025. People choose a centralized system for controlling their devices to maximize comfort at home. Apple, Amazon, and Google can make the smart home of your dreams a reality.

If you wonder how to integrate all smart home devices using your phone, Wellnuts experts have a solution. We have extensive experience in developing and implementing IoT software. So read the article and find out more about smart home technology.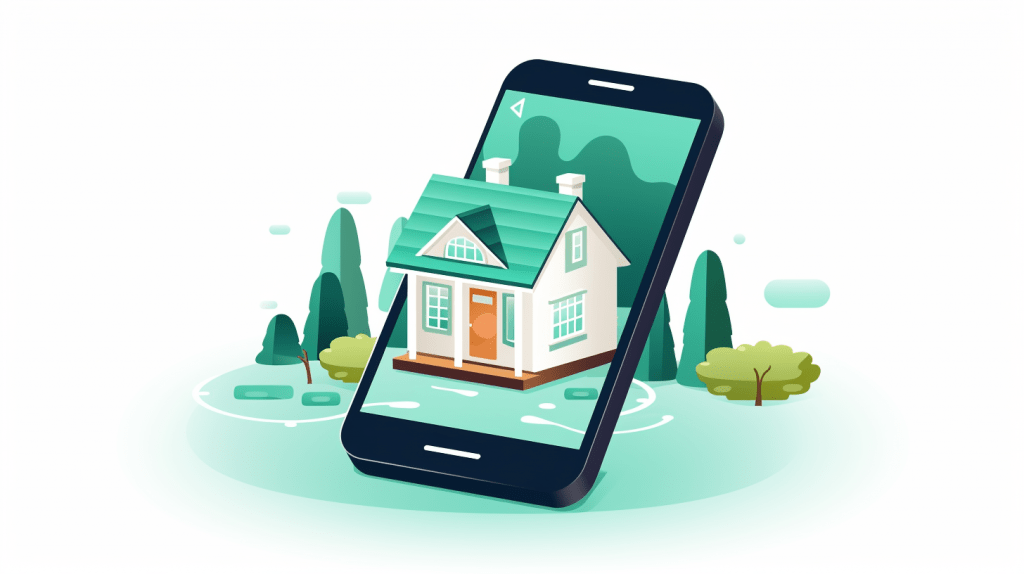 ---
Smart Home Network Work Components
---
A smart home network has an infrastructure consisting of a central hub, a gateway, a router, and the end nodes (all smart devices). You can have plenty of smart devices at home connected through the Internet of Things.
Many still struggle to answer the question: how do smart home devices communicate? It's hard to give a universal explanation as IoT devices communicate in dozens of different ways, using various protocols. But there are crucial components of IoT device communication, including
IoT device
Local communications
Application protocol
Gateways
Network servers
Cloud applications
User interface
Smart devices connect to the Internet and each other with the help of a control protocol: WiFi, Z-Wave, ZigBee, Thread, or Bluetooth. WiFi-connected devices are the most popular among owners of smart homes. People can coordinate the work of devices remotely via mobile applications or voice assistants, like Alexa, Google Assistant, and Siri.
---
Smart Home Segments and Apps
---
The smart home market is growing. People spend more money on IoT accessories to live securely and comfortably. There are six main segments of smart devices, such as video entertainment, lighting, home monitoring, thermostat, smart speaker, and others. The category "others" includes sensors, detectors, robotic vacuum cleaners, smart switches, digital health devices, etc. This segment will reach high shipment rates because more devices have smart capabilities today.
Taken from: https://www.statista.com/statistics/920679/smart-home-device-shipments-worldwide-by-category/
Want to know how many smart devices per home you can have? According to the research, internet households today own an average of 16 connected devices, compared to 13 connected devices in 2021. Because of the pandemic, people started to use more smart devices, which fueled the demand to manage these devices properly.
---
Smart Speakers
---
Now a few words about smart speakers you can use to control your smart home devices. It's an innovative solution to improve your user experience by taking advantage of voice assistants and smart home apps.
Google Home. The Google Home app is available for iPhone, iPad, and Android users allowing them to control everything with Google Assistant. Having speakers in rooms, people can control different processes with their voices. It's essential to make sure the devices they use are compatible with Google Assistant. It's easy to automate and control the whole home with Google Home.
Amazon Alexa. The Amazon Alexa app is also available for iPhone, iPad, and Android users. It enables people to automate smart home controls with echo peripheral devices. Alexa adapts to their voice, vocabulary, and preferences. By buying smart devices, people should check if they are Alexa-enabled. Alexa works with many smart-home devices and constantly expands its smart-home capabilities.
Apple Home. With the Apple Home app, users can control all their HomeKit devices from their iPhone, iPad, Apple Watch, HomePod, Apple TV, and Mac. It supports devices compatible with the HomeKit platform. People can organize their devices into rooms, add homes, and invite friends.
---
Smart Water Monitoring
---
Smart water monitors prevent your home from any water damage. Monitoring systems like leakSMART leak detection starter kit detect leaks and shut off your water if needed. If you wonder how to make smart water at home, get a smart water assistant product equipped with household sensors. Make sure it has the option of connecting with your mobile device and enjoy useful statistics and no water pressure issues in your home.
---
Smart Lighting System
---
Now we'll review smart lighting for your smart home. Philips Hue from Signify offers dimmer switches and motion sensors. People can acquire tuneable, dimmable, and multicolor smart bulbs, dimmer switches, motion sensors, security cameras with spotlights, and smart light strips.
If you want to know how to install a smart home light switch, you should know the wiring in your walls. It should power smart connected devices. Hire a specialist for professional consultation and install additional wires.
---
Smart Air Conditioner
---
If you look for how to make a smart air conditioner at home and connect it to your smartphone, these tips are right for you. This smart home technology is quite popular nowadays as people can easily control or schedule air conditioners from their phones, saving energy bills.

You can find a lot of decent options in the market (Windmill AC, Midea 8,000BTU U-shaped Air Conditioner, etc.) and connect the air conditioner to your device. Consider it's quiet, has fast cooling, easy to install, and supports Amazon Alexa, Apple Siri, and Google Assistant voice commands.
---
Smart Thermostat
---
Wi-Fi thermostats control the home's heating, ventilation, and air conditioning. Users can adjust heating settings with the help of their internet-connected devices. The possibility of controlling the thermostat remotely is crucial for energy savings.

On your smartphone, you can see internal/external temperatures, the HVAC system running time, and notifications about the system's air filter replacement. Google Nest Learning Thermostat is one of the best smart thermostats with remote sensors and geolocation.
---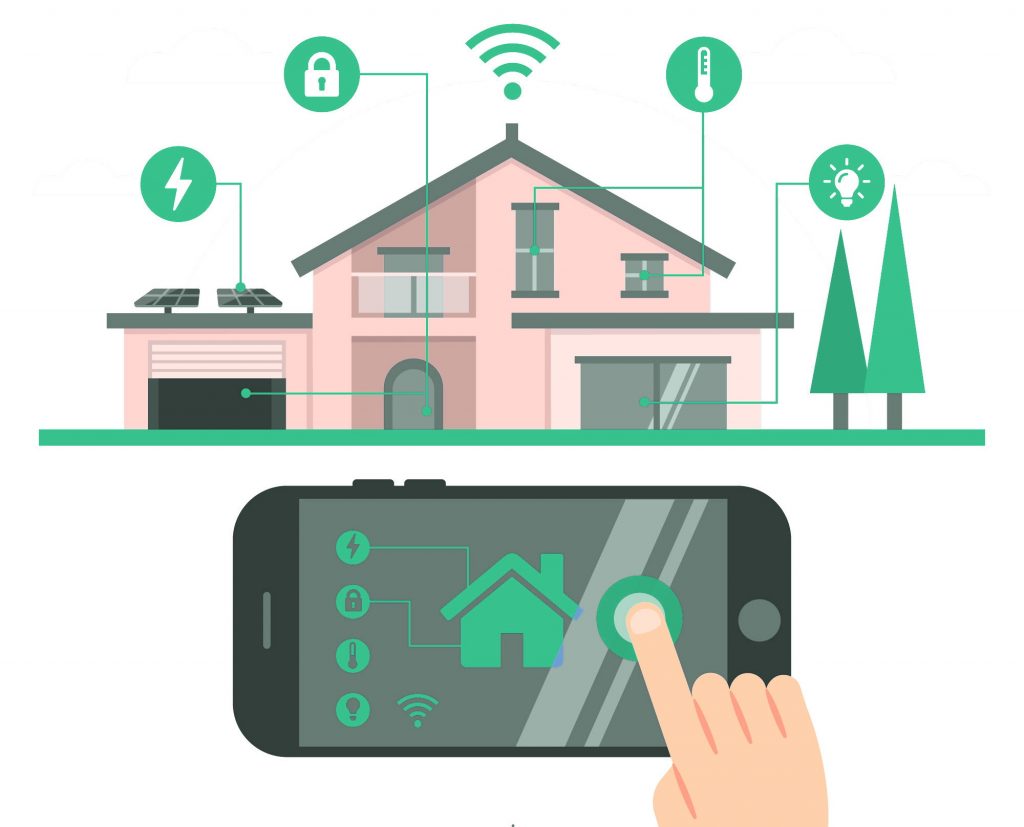 Outdoor Smart Devices
---
You can enjoy the best smart home experience with the help of beyond-the-back-door devices. There are smart sprinkler systems (Rachio 3 Smart Sprinkler Controller), robotic lawn mowers (Husqvarna Automower), smart grills (Traeger Ironwood 650), and more for the technological comforts outdoors.
Connect smart home devices to the phone app and make the most of your backyard and garden.
Security Smart Devices
---
Now people can control their home security via their phones. Smart locks, video doorbells, and indoor and outdoor security cameras allow users to monitor activity around their homes. There are special smart home security systems like Abode iota All-In-One Security Kit for the complete security of your house. People can easily install them and monitor their homes via a mobile app.
---
How to Secure IoT Devices
---
You should consider the security issue by launching a mobile app for controlling smart home devices. Manufacturers make their IoT devices resistant to hacks, but you, as an app developer, should care about your product security.
Our team, familiar with metaprogramming, has developed an innovative mobile application for an insurance company that is 100% secure. It helped the client to increase their customer flow by 30%. We provide full-cycle development services, ensuring code quality and risk management.
There are several practical tips on how to secure smart home devices:
Use a secure router
Read the company's privacy policy
Choose a strong encryption method
Make up a strong WiFi password
Perform software updates frequently
Use VPN to encrypt your web traffic
Now you know that developing a phone app, you have to prioritize its security and inform your users about essential cybersecurity measures.
---
Create Top-Notch Smart Home Solution With Wellnuts
---
We live in the era of home automation, and there's no time to wait for someone to develop an innovative solution for smart home device management. We are always ready to solve your technology challenges.

Wellnuts experts will share with you their experience in IoT management applications development. Do not wait to contact us and build up your successful digital strategy.

Ready to talk? Contact us: ask@wellnutscorp.com